Lottie.js Animation Placeholder
(() => { if (!window.lottieAnimationRepository) { window.lottieAnimationRepository = []; } const lottieAnimationRepository = window.lottieAnimationRepository, container = document.querySelector('#lottieAnimation-65019566d0582'); container.innerHTML = ''; lottieAnimationRepository.push( { containerSelector: '#lottieAnimation-65019566d0582', json: 'https://cdn01.plentymarkets.com/avw8j9fg70hi/frontend/website_plentycom/Lottie/plentyChannel.json' } ); })();
Lottie.js Animation Placeholder
(() => { if (!window.lottieAnimationRepository) { window.lottieAnimationRepository = []; } const lottieAnimationRepository = window.lottieAnimationRepository, container = document.querySelector('#lottieAnimation-65019566d0585'); container.innerHTML = ''; lottieAnimationRepository.push( { containerSelector: '#lottieAnimation-65019566d0585', json: '' } ); })();
PLENTYCHANNEL MAKES MULTI-CHANNEL SIMPLER THAN EVER
The world is a marketplace. Make it yours.
YOUR CUSTOMERS ARE EVERYWHERE. YOU CAN BE TOO.
Sell more with plentyChannel.
On more than 50 online marketplaces and price search engines worldwide.


Nowadays, nearly half the money in e-commerce is made on online marketplaces and platforms.
This means that you need online marketplaces to succeed. The more the better. And the more organised the better.
plentyChannel offers you all that and more:
Dozens of online marketplaces worldwide. Not just the usual suspects like Amazon and eBay, but so many more: country-specific marketplaces, local marketplaces, specialist marketplaces

All with a minimum of administration, because all processes from sales to shipping are easily automated and managed with plentymarkets

There are numerous add-ons and tools to make marketplaces work for you and your customers
The world is waiting for you. So what are you waiting for?
INTERNATIONAL MULTI-CHANNEL
More countries. More reach. More revenue.

Your customers are everywhere. You should be too.
Dramatically increase your reach and revenue with plentymarkets. Companies and e-commerce businesses that want to become global players rely on plentymarkets as the platform that easily scales with their ambitions.
Setting up and managing international sales channels is a breeze with plentyChannel.
And you can connect new channels at any time and with minimum effort.
COMPLEXITY, SIMPLIFIED
Flexible, automated content management.
Because no two marketplaces are the same.

Every platform has different rules for organising content. That's a lot of stress if you want to list on 50 marketplaces – if you had to do it manually, that is.
Good thing you don't have to. With plentymarkets, products basically list themselves.
You manage all item data in one place
You decide which items you want to sell on which platform and at what price
plentymarkets helps you ensure that product presentation, images and texts comply with the specifications and layout rules of each marketplace
We've always wanted a system that gives us maximum flexibility. plentymarkets does just that. In combination with excellent support, we are finally 100% multi-channel!"
Lena Schaumann
Möbel Schaumann
AUTOMATED PROCESSING AND ANALYSIS
Trust your instincts.
Trust plentyChannel more.

Who, what, when, where to and how much. The more marketplaces you sell on, the more you need to keep track of your business. Traceability and control are the cornerstones of any successful online business.
With plentymarkets, your marketplace data is always at your fingertips. All in one system:
Stock and price management
Quick, reliable order processing
Extensive product analysis – which products did the marketplace accept and which need to be optimised?
Some marketplaces offer just the right niche for us. Others have become standard due to their size. We just need a presence there to stay competitive. We rely on the great marketplace integrations to centrally manage listings on many channels."
Nicolas Willimek
meingartencenter24
BECAUSE THERE IS A CUSTOMER EVERY SECOND
Time is money.
Especially online.

With plentyChannel, your marketplaces are optimised for best performance. Especially when it comes to speed. A pleasant side effect is that you will increase your sales. And that your customers will feel in safe hands when it comes to service.
Orders are imported quickly
Any changes to the order status are communicated rapidly
Shipping confirmations, payments, cancellations, credit notes, returns and everything else is processed immediately - not lost in some digital nirvana
Thanks to plentyChannel, our customers are spearheading the multi-channel business. And we work hard every day to ensure that they stay ahead!"
Atila Ioan Szekely
Area Product Manager plentyChannel, plentysystems AG
MULTI-CHANNEL MADE EASY
Your advantages with plentyChannel
at a glance.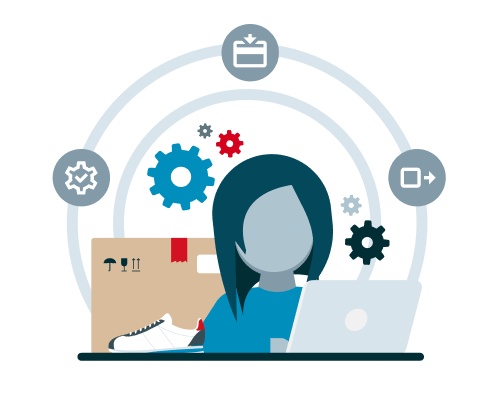 Efficient automation
No need to constantly check your sales on marketplaces since the following tasks are automated:
Stock synchronisation
Product data synchronisation
Order imports
Automated payment and shipping confirmations
Automated order status communication to marketplace customers
Centrally managed customer communication
MARKETPLACES
You sell more with plentymarkets.
More than 150 sales channels - worldwide.
Get started with plentymarkets now
Test plentymarkets for 30 days for free and discover all the features you need to be successful in e-commerce.